"It's all a work in progress" says Burnham FC manager Ben Murray.
Football is back and for the first time in a few years it feels like a proper season again. It's been a tough couple of years for players with the pandemic and the stop start nature, which for us all has been a massive learning experience, both in terms of football and life itself.
To be fair we have been back for a while now, we started training in the middle of June and the lads have been excellent so far.
As you all know by now, we have a young group of players here at Burnham, a group that are so enthusiastic and willing to learn about playing the right way but also with a mixture of understanding non-league men's football.
We focused the first few weeks of pre-season on football related fitness and then looked at two different types of formation within our shape work that we can be adaptable to depending on conditions and opposition.
As all managers say at this stage of a season, it's all a work in progress and will continue to be for our group for the season. Each game in this competitive division is different, there are so many different styles of teams that we come up against. Some that are direct, some that play, some that are very random in their approach and some that would prefer to have a scrap to get the result. That's what makes this level of football unique to any other.
At Step 5 it is evident that players are either up and coming and getting games under their belt in order to kick on the levels of their career or the opposite where players are playing for the money and have taken the decision to play two or even three levels below where they have been before.
It's important and far more rewarding to have those players who are young, vibrant and have a great future ahead of them, which I believe we have plenty of at the club.
Our first few games have seen us play against all different types of teams, all teams who will be looking to have strong seasons, like us. Easington in the FA Cup was a great learning experience for our group, something we are stronger for now. We came off the pitch after the penalty shootout to applause not only from our travelling fans but the home ones too who were very complimentary about our style of play. Which although is nice to hear feels empty without the result that it deserved and we have focused on this in the few weeks leading after that game.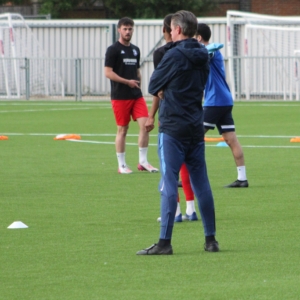 Our Wednesday night game against Egham was a massive improvement on our levels in every department, some of our phases that we played were really impressive and our passion and resolve to play that way for the duration of the game was rewarding in a point, which was the least that we deserved from the performance. The game felt different. It was the first time where I felt our group played like men, if you get what I mean, it felt like the penny had dropped and we look forward to our next few games to see our development continue.
This season we purely focus on the six areas that I believe are fundamental to succuss in a team.
The six areas are Mental, Technical, Tactical, Physical, Speed and Effectiveness.
The mental aspect is all about the player brain and how they deliver football aspects, looking at decision making on and off the ball and the areas of the game that look at players being both proactive and reactive to situations during a game. This is an area that we will look to focus on most during this season and ultimately looking at how a player reacts a situation in a game and ensure they have the correct mindset.
The Technical and Tactical aspects are all training based, areas that we continually work in our sessions and look to take forward into our games.
The Physical and Speed aspects are what we have been looking at in pre-season from an individual player perspective, each player is on a fitness plan and we look to keep them at the best fitness levels they can be considering the long length of a season. We also incorporate Physical aspects into dealing with exactly that from our opponents and how we need to compete within games.
Finally, we have the Effectiveness aspect, where we look from a player and team perspective. How can we be effective in a game, how can we exploit an opposition and how/who will make the difference in a game.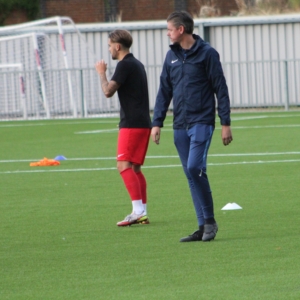 We continually review with players how their development is moving on and through our training sessions and pre/post match meetings and team talks we refer to the above to ensure that understanding is there from the full squad.
The final area that we have looked to focus on in pre-season and at the start of the season is team cohesion. It's vital within any team that players are playing for players, as well as the badge and the club and we have been using our training sessions to focus on this area to take into games also. As well as off the pitch, we have had a couple of socials and got to know each other, as well as understanding that through our initiations we have next to no talent in the singing department…
We look to provide the players with a close knit environment here at the club and all those that are apart of the club really help us with promoting this and for that we thank you, whether you're a supporter who comes to our games or the great staff we have at the club, we are creating a positive atmosphere and a real club feel, which is something that is pivotal to making a successful team and club.
Next time, I will update you on how the squad is progressing and looking more in depth into our new players we have in the squad, in the meantime it would be great to see as many of you as possible at our next two home games in the County Cup and FA Vase, two games that we are really looking forward to.
Thanks,
Ben
(Tuesday 23rd August 2022)
---
Useful links: