East Berkshire Football League Summer 6-a-side Football Tournament and Presentation Day 2022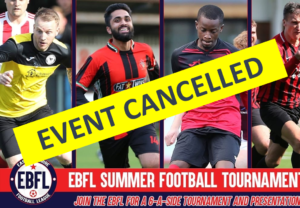 Event cancelled by the event organisors.
The EBFL are hosting their new 6 a side tournament and regular season presentation day at the 1878 Stadium, Burnham Football Club.
Entries open at 9am on Saturday 28th May. Teams can register via contactebfl@gmail.com
The event starts from 9am on Saturday 18th June, with 10 teams playing in four matches each.
Admission prices are £3 per adult includes a free programme and £1 per child.
*Cash only on the gate*, hot and cold food and drinks, including alcohol, available from the Blues Bar and Cafe, including the pitch side hatch as usual.
"We have developed a strong relationship with Rob this season, since our new 3G pitch was installed and the EBFL have chosen our club for many of their high profile showcase matches…" says Burnham FC's Marketing Director Paul Butler. "We look forward to what could be an amazing day of fun and adult football."
Useful links:
East Berkshire Football League
Match Days at Burnham Football Club